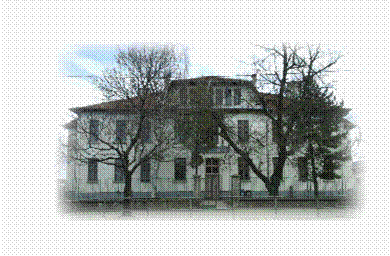 In 1959 a Vocational School of Textiles was opened in the town of Samokov. Later, in the 1971/72 school year, the school grew into a textile vocational school. Until 1976 the educational institution did not have its own building, as the students studied in the building of the high school (2 shifts) and in one of the buildings of the factory "Rilski len".
​
In 1976 the school received one of its buildings, building №1, at 18 Sofiysko shose Street - the building of the former carpentry school, in which it is housed to this day. Building №2 at 21 Otets Paisiy Street (former textile dormitory) has been owned by the school since 1982.
​
From the school year 1983/84 there are classes in the existing new educational form - with specialties: weaving, cooking, sales consultant, operator-accountant, administrator-organizer, which lays the foundations of the SPTU in textiles and catering.
​
For its 25th anniversary in 1984. The school was awarded the Order of Cyril and Methodius - II degree
​
In 1998 the school was transformed into a Technical School of Tourism and Textiles, with classes in the following specialties: "Culinary", "Organizer in textile production", "Operator in knitting production", "Technology and management of production and service in catering establishments" and Hotel Management.
​
From the school year 2000/2001 the classes "Organizer in the textile production" and "Operator in the knitting production" dropped out, and in 2003. is transformed into a Vocational School of Tourism.
​
In 2016, a dual system of training for the profession "Restaurant" was launched, specialty "Production and service in restaurants and entertainment"
​
Since 2018, the high school is included in the List of innovative schools in Bulgaria with a holistic approach to integrative teaching of theory and practice in key subjects for the profession.
​
2019/2021 introduces training in the professional field "Food Technology", specialty "Production of sugar and sugar products", profession "Operator in the food industry" - dual training with employer "C Commercial - 7" Ltd.
​
The school has the material base for conducting educational and practical activities in high-class hotels in Borovets, which allows students to find themselves in a real work environment among professionals in the tourism industry.
​
The tourism industry offers work that is attractive, creative and artistic - meeting new people, getting to know different life, culture, traditions and national cuisine. It enriches the general culture and provides an opportunity to get acquainted with historical, geographical, archeological and natural landmarks and phenomena.
OUR PHILOSOPHY
We believe that a good professional goes through training in a vocational high school.
​
Our aim is to meet the modern requirements in the field of vocational education.
VALUES
Love for the profession and everything you touch.
​
High professionalism and dedication
​
Adaptability to changing conditions, tolerance for others and understanding of ​